HISTORY OF MUSIC IN THE RECORDING INDUSTRY AGE – pt 2
HISTORY OF MUSIC IN THE RECORDING INDUSTRY AGE – pt 2
History of Music in the Recording Industry Age – Pt 1
1• A tiny historical framework
Last two decades of the nineteenth century were years of big faith in science and progress, good technological and financial development and relative peace.
At the same time, they were also years of rising social conflict. These were the days of the Second International [1889] and Rerum Novarum [1891], or Rights and Duties of Capital and Labor. The years of the first widespread awareness of the conflict between labor and capital.
Life in the United States was characterized by rapid economic growth and by the social management of the abolition of slavery after the Civil War. The European migratory flow was huge, peaking between 1881 and 1885 when a million Germans settled primarily in the Midwest.
After 1880, steam-powered ships replaced sailing ships, for a greater immigrant mobility. Meanwhile farming improvements created surplus labor in Europe and trains made it easier for people to arrive to ocean ports and embark. Italians (600,000 just in the 90s) and Slavs made up the core of this migration wave together with the Germans. A substantial number of Jews from Eastern Europe fleeing religious persecution among them. Young people between the ages of 15 to 30, predominantly.
In 1892 Ellis Island, the United States' first immigration station, opened in New York Harbor.
HISTORY OF MUSIC IN THE RECORDING INDUSTRY AGE – pt 2
2• Issler's Orchestra
Issler's Orchestra was the first ensemble to gain fame through sound recordings. Edward Issler was born in 1855 as the son of a Bavarian beer seller and a Prussian woman, a unified Germany was still to come. He grew up selling beer in a German-Prussian immigrant neighborhood in Newark, New Jersey. In the mid-80s he played regularly in pit orchestras, in 1886 he led his own one.
Starting with the first marketing of the phonographic cylinders in 1889, Issler's name appeared on almost every phonographic ledger of Edison-North American Phonograph Company until 1893. Then Issler joined the fledgling US Phonograph Company, based in his hometown of Newark.
In this era each recording was unique and artists had to record tunes over and over again. Issler's Orchestra recorded tens of thousands of cylinders, mostly classical marches or waltz, between 1893 and 1897. Soon after he seems to have left the recording industry.
By 1903, Issler was the president of the Newark Musicians' Union, and Newark was where most of the recording musicians lived. With the new century, Issler's name still appears in various newspapers, both as a musicians' advocate and also as a bandleader. But by the time of the First World War he stopped having any influence.
Edward Issler was a very good arranger. Many of his arrangements were then recorded by other studio orchestras until the mid-1920s. Unfortunately, he never officially appears as an arranger for any of them.
He died in 1922, almost forgotten.  Only the new millennium took Issler's history and influence back to surface . His myriad records are all across the Internet and libraries and no two of them are the same. Even with these recent discoveries, however, we still have just a brief overview of his life.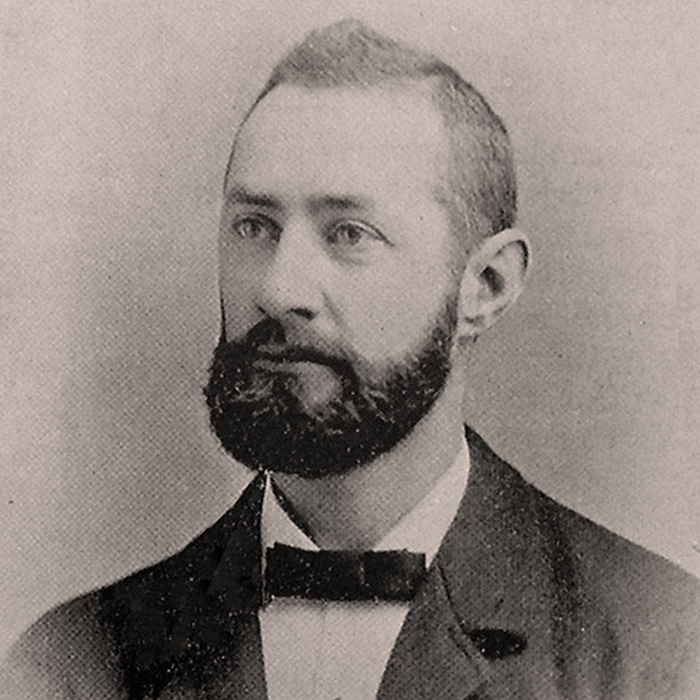 Edward Issler in the 1890s
HISTORY OF MUSIC IN THE RECORDING INDUSTRY AGE – pt 2
3• John Philip Sousa's US Marine Band and Columbia
Just after Issler's recording career started, the US Marine Band signed a contract with the newly formed Columbia Phonograph Company. If it was a question of having to record military marches, they knew something. And they were stationed in Washington, where Columbia was headquartered and licensed.
Columbia started in 1889 as a client of the North American Phonograph Company, then in 1894 began to sell only records of its own manufacture. The first Columbia catalog with single recordings is dated October 1, 1890. It contains 49 recordings of the US Marine Band, directed by John Philip Sousa. He was for America what Johann Strauss Jr was for Austria: the king of the waltz one, the march king the other.
Among these recordings, we could find the first three number one hits of 1890. They were the nowadays world famous "Semper Fidelis", "Washington Post" and "The Thunderer".
It wasn't about getting the full band gathered together in the recording studio, of course. It wasn't possible to bring more than a dozen artists together to play loud and clear enough, given the technology available at the time.
Between 1890 and mid-1892, the US Marine Band recorded more than 200 songs for Columbia. Soon after, Sousa, who had directed the band since 1880 and had now risen to international fame, left the direction. He went on creating the Sousa's Grand Concert Band , playing concerts all over the world.
Sousa's Band toured almost continuously from 1892 to 1931 and performed at no less than 15,623 concerts (see "The Incredible Band of John Philip Sousa" by Paul Bierley). It means more than a concert a day, 39 years along: pretty incredible indeed.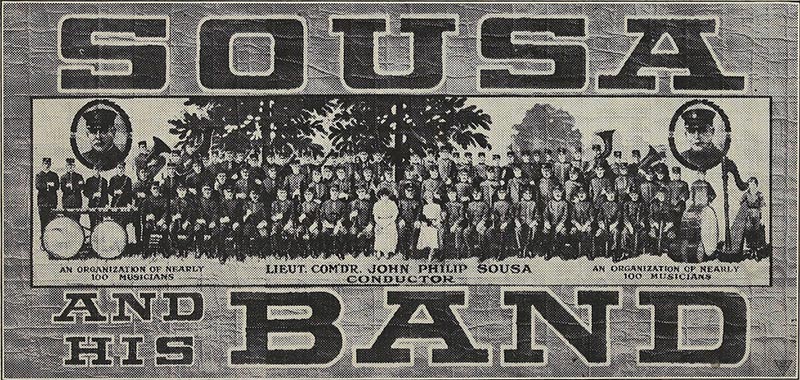 Sousa's Band poster